ISSUE #11 ABDR NEWSLETTER OUT NOW
October 7, 2019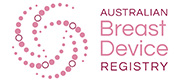 Welcome to the latest issue of the Australian Breast Device Registry (ABDR) newsletter. In addition to an update on the registry's progress, we've compiled links to important safety information about breast devices (implants) issued by the TGA, including how to find out what implant you have.
National recruitment
We've welcomed more than 4,500 patients to the ABDR since our last e-news!
Our sincere thanks to over 43,000 patients and 512 Australian surgeons contributing data about breast device procedures.  View the 280 participating sites here 
How to stay up to date on TGA announcements about breast device safety
Regulatory Action
Recently the TGA announced regulatory action on all breast implants and tissue expanders sold in Australia, including the suspension of eight models from the market for six months.
The TGA has a dedicated Breast Implant Hub providing easy to read information to support people with concerns about their implants or considering implants (including where to go for help and for information about their device).
Developments relating to BIA-ALCL (Breast implant associated anaplastic large cell lymphoma) and/or breast devices are updated on the TGA website for consumers here and for health professionals here.
Allergan Voluntary Recall
Following Allergan's voluntary withdrawal of Biocell textured implants and tissue expanders in August, the TGA released these easy to read brochures:
For any concerns about breast devices, or your health following breast device surgery, please see your surgeon or your GP. 
Why details of removed (explanted) devices are important
Explant data is critical to learn about the lifespan and performance of a device following insertion, and to help identify issues associated with their removal.
Information about explant surgeries (with or without a replacement), is completed by surgeons in the pink and blue sections of the Data Collection Form (DCF).
News in Brief:
ABDR 2018 Annual Report – We are in the final stages of preparing this report for print. Electronic versions will be available to view and download here.
ABDR surgeon reports –  New individual surgeon reports, based on feedback from last year, are under development.
New surgeons –  If a new surgeon joins a health service, please advise them that your facility supports the ABDR and notify our team, who will follow up with the surgeon directly.
ABDR PROMs SMS –  SMS continues to be the most popular way for patients to complete the PROMs (Patient Reported Outcome Measures) questionnaire. Find out more about this sub-study here.
Recent publications:
Begum H, Vishwanath S, Merenda M, Tacey M, Dean N, Elder E, Mureau M, Bezic R, Carter P, Cooter R, Deva A, Earnest A, Higgs M, Klein H, Magnusson M, Moore C, Rakhorst H, Saunders C, Stark B, Hopper I. "Defining Quality Indicators for Breast Device Surgery Using Registries for Global Benchmarking". Plastic and Reconstructive Surgery – Global Open. 2019 August 19. doi: 10.1097/GOX.0000000000002348
Vishwanath S, Ng S, Pusic A, Parker E, Cooter RD, Elder E, Moore C, McNeil J, Hopper I. Response to "Comments on 'Patient-Reported Outcome Measures for Breast Implant Surgery: A Pilot Study". Aesthet Surg J. 2019 Jul 17. pii: sjz178. doi: 10.1093/asj/sjz178. [Epub ahead of print]
All publications are listed on abdr.org.au/publications
Presentations:
Our sincere thanks to these organisations for the opportunity to increase awareness of this important registry.
BreastSurgANZ Post Fellowship Trainees Day Adelaide, August
The VPNG (Victorian Perioperative Nurses Group) State conference Melbourne, August
Pink Hope Information Day Melbourne, August
St. Vincent's Advanced Plastic Surgery Symposium (VAPS) Sydney, September
Pictured below- Left: ABDR research officers, Judy and Eva's presentation at the VPNG state conference in Melbourne attracted a lot of delegate interest and support for the registry.  Right: Special thanks to Dr Ginnie Ip for co-presenting an update on the ABDR at the BreastSurgANZ's Post Fellowship Trainees Day in July.